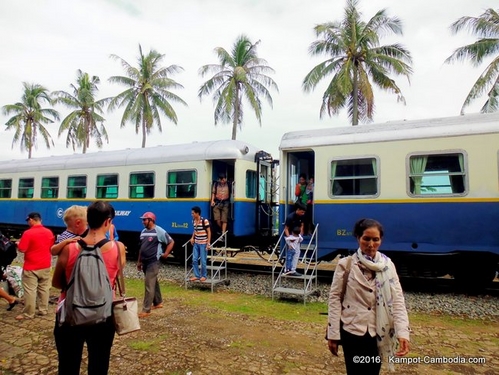 Kampot Train Station
The best way to get to Kampot is on the TRAIN!
$5 from SihanoukVille and 2 hours, and $7 from Phnom Penh and 5 hours.
Beautiful ride through the Cambodian countryside on newly refurbished passenger cars from the 50's and 60's. Beverages and some food served aboard the train, and you can stop off in Takeo for a snack if coming from Phnom Penh.
You can also take your car or motorcycle for a fee.
Tickets sold at the train station. Now running Saturday, Sunday and holidays, but look out for everyday service coming soon!

The Phnom Penh train station is downtown, and the SihanoukVille station is right outside of town at the port.
Check for times at the station.
However for now...
Departing Kampot to SihanoukVille - Friday - 10pm, Saturday and Sunday, 2pm.
Departing Kampot to Phnom Penh - Saturday and Sunday, 8:40am
but please call first at 099 222 566 or stop by the station.
You can take your car on the train for $10, motorcycles for $4, departing from Phnom Penh or SihanoukVille.
SihanoukVille Train Station Open Monday, Wednesday Thursday Friday from 8am to 4pm. Saturday and Sunday from 6am to 4pm

Phnom Penh Train Station Open Monday to Friday from 8am to 4pm. Saturday and Sunday from 6am to 4pm.

Kampot Train Station Open 8am to 4pm Wednesday to Monday.