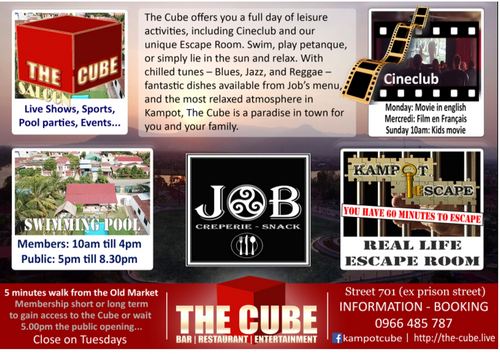 The Cube
The Cube offers a full day of leisure activities, including Cineclub and and Escape Room.
Swimming, Petanque, and relaxation.
Blues, Jazz and Reggae
Job's Creperie Restaurant has fantastic dishes (and food)
Live sports and pool parties. Monday is English Day at the Cineclub, Mercredi: Film en Francais (believe that means Wednesday is French Day. And Sunday at 10am is kids' movies.

The swimming pool is open to the public from 5pm to 8:30pm, members 10am to 4pm.
The Kampot Escape Room gives you 60 minutes to get out of the room...... or else!

Closed on Tuesdays.
5 minute walk from the old market downtown.
Tel: 0966 485 787