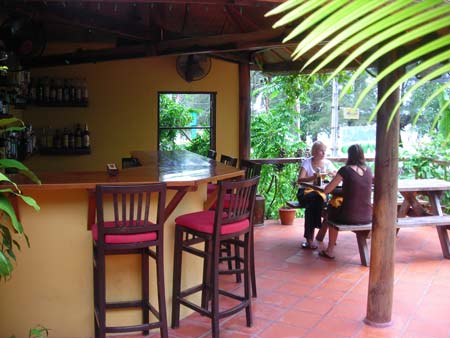 Rikitikitavi
Charming small European managed hotel on the riverfront of the sleepy provincial town of Kampot.
The very well appointed, stylishly finished rooms are in a converted rice barn.
Each room is furnished with spring mattresses, comfortable bedding, A/C, fan, safe, mini bar, TV and DVD player and en-suite with a hot shower. Free fast wifi in-room.
Excellent terrace restaurant and bar with brilliant views overlooking the river and the Elephant Mountains, a fabulous spot to watch the sun set with a cocktail in hand.
The restaurant offers a great selection of traditional Khmer dishes and western alternatives. The management keeps the kitchen, and its ingredients, to exacting standards and both the Western and Khmer dishes are of highest quality.
Consistently good reviews for both hotel and restaurant.
Rikitikitavi is in a great location to explore the history, architecture and culture of Kampot and offers a range of activities and excursions to the local areas of interest. These include visits to the nearby Bokor National Park, Limestone Caves, salt fields, pepper plantations, Tek Chou Rapids and boat trips, both up the river and out to coastal islands.
Price range $48 - $58
Address Riverside Road, corner of Street 728, Kampot Town, Cambodia.
Telephone +855 12 235102
+855 12 274820
E-mail info@rikitikitavi-kampot.com
Website www.rikitikitavi-kampot.com
Thank you so much!
Denise