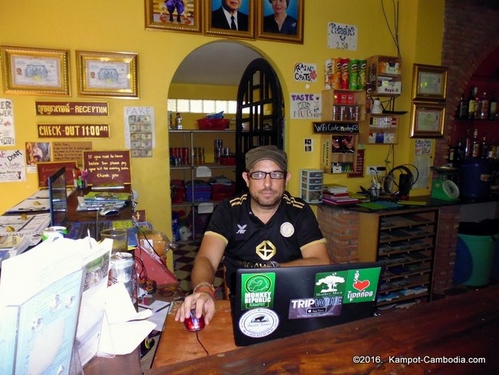 Monkey Republic
The dynasty continues!
Joining Monkey Republic from SihanoukVille (and Monkey Island on Koh Rong Island and Monkey Maya at Ream National Park)
A few basic fan rooms with bath, and plenty of dorm rooms. Also a popular bar and restaurant serving English food and lots of cold Angkor Beer. A 5 minute walk to the riverside, around the Salt Workers Circle in downtown Kampot.
A garden setting with English style pub inside. You can book on facebook or the website. Dorm rooms $4 and the En Suite Private rooms $7+.
Get in touch
Monkey Republic: Kampot
St. 730
(near the Salt Workers Roundabout)
Kampot Town, Cambodia
Email: monkeyrepublickampot@gmail.com
Phone: +855 12 848 390
Open 7 days-a-week
Reception
7:00-23:00
Restaurant
7:30-22:00
Bar
7:00 'til whenever you stop drinking.