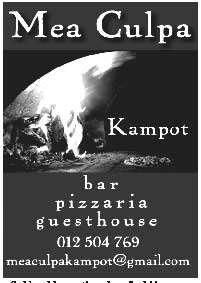 Mea Culpa
Bar * Pizzaria * Guesthouse
Irish management
Wood fired Pizza
Rooms $20 - $25 with Air-con, TV, DVD, hot water.
Six guest rooms available within the guesthouse, all offering air conditioning, en-suite hot water, TV, DVD, tea and coffee making facilities and free high speed WIFI.
The restaurant specializes in Pizza, from a wood-fired pizza oven, made thin and crispy in the true Neopolitan Style. We also offer breakfast and lunch options, with home made breads, and seasonal jams.
Located 1 street off the riverside, behind the Govenor's House, in a garden setting.