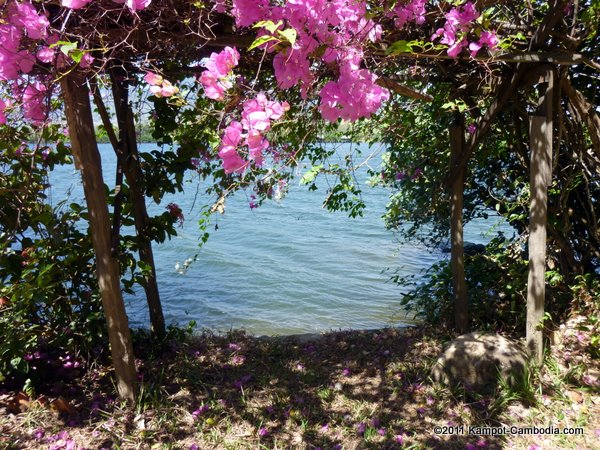 Les Manguiers
a few kilometers out of town, on the Kampot River is Les Manguiers. Rooms, a private house, and bungalows from $10 and up. River view, en suite, garden rooms. English, French and Khmer spoken. Restaurant.
At Les Manguiers you can enjoy:
~A location between river, rice fields, and fruit trees
~Located right on the Kampot river with a wonderful view of Bokor National Park.
~Comfortable lodging with private bathroom (in either bungalows or traditional Khmer house)
~Tours by boat
~Kayak rentals
~A variety of games
~Badminton court
~Ping pong table
~Children's play area
~Swimming directly from our private riverside
~Fabulous cuisine featuring Western, Khmer, and Seafood (and our own homegrown rice!)
~Tours of the surrounding area can be arranged (caves, pagodas, Kep, pepper plantations)
~Free use of bicycles and canoes
~Comfortable meeting room
~Wireless internet access
~A warm and friendly welcome!!!
E-mail: mango@mfone.com.kh ; mangotree.kampot@yahoo.com
Telephone: 092 33 00 50; or 090 33 00 50
From abroad 855 92 33 00 50 or 855 90 33 00 50