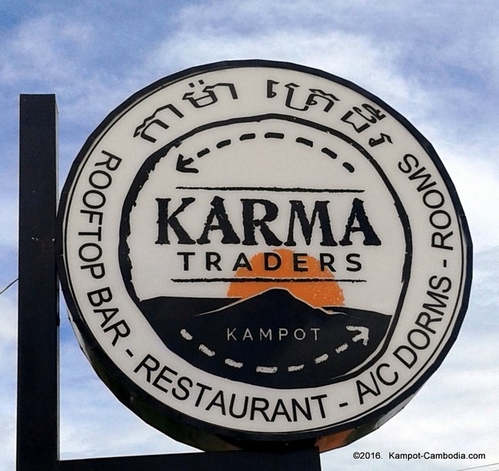 Karma Traders
Rooms * Movies * A/C Dorms * Rooftop Bar and Private bungalows.
Karma Traders Kampot is an eco-friendly accommodation option with a rooftop bar and restaurant. Here they offer A/C dorms, private rooms and soon-to-be completed shipping container bungalows (2017). All rooms come with ensuite bathroom, linen and towels.

There are also numerous social areas, a cinema room, outdoor activities (slacklining/basketball/football/volleyball), a tours & information desk, sports lounge and wonderful views of both sunrise & sunset.

Karma Traders is also contributing back to local charitable organisations with monthly monetary contributions and a volunteer-based system. On Wednesdays there's a rooftop live music night, providing an entertaining social night for expats, locals and travellers alike.

We look forward to meeting you!
Outside of downtown, about 1KM, along the riverfront road going upstream (at low tide)
Also, Mathilda Graphic Design and Tattoo is located on the grounds.
Tel: 016 556 504