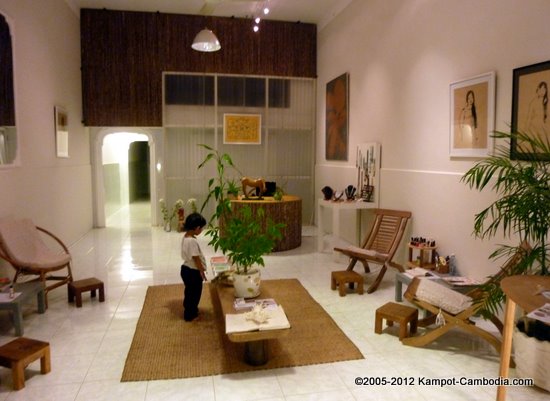 Jolie Jolie Beauty Salon and Spa
Unique in Kampot.
Beauty Salon featuring....
Waxing,
Manicure and Pedicure,
Facial and body treatment,
Swedish oil massage,
Khmer traditional Sauna
Jolie Jolie Beauty salon and SPA opened in November 2010 in the charming coastal city of KAMPOT, CAMBODIA.
The salon is decorated by owner Sichan Soung, and her French husband Vincent Broustet. Every detail is carefully chosen to create a space of peace, comfort and harmony.

A large eclectic repertoire of real cool music, subtle art pieces from Broustet and a shadowy terrace add to the high quality of service provided, and to the products used at Jolie Jolie.

Treatments include hands, feet, face and body treatment, scrubs, relaxing oil massages, Khmer traditional steam and waxing.

All products from Bodia nature, Cambodia and best natural products from Thailand. Nail and waxing equipment and products imported from France.
Tel: 092 936 867 or 092 280 2760
e-mail: sichan@joliejolie-kampot.com