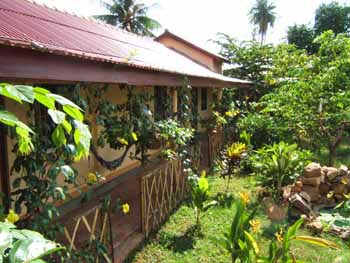 Hang Rooms & Restaurant, Kampot
Welcome to our garden...
We are on the side of the Teuk Preak River, just 2 minutes from the center by bicycle of Kampot.
We have a restaurant overlooking the river where our guest can experience both Khmer and Western specialties in a cozy family atmosphere.
We have a few quiet restful rooms surrounded by a beautiful garden where one can stroll among tropical flowers and fruit trees.
Utilize our tour services to make arrangements to visit all the sights in the surrounding Kampot area. Free transportation can be provided to the city center or take advantage of a complimentary bicycle to enjoy
the local scenery.
Profits from our services will help fund our efforts to advance the knowledge of the new technologies through lessons in the use of computers for the local children.

Bienvenue dans notre jardin...
Nous sommes au bord du fleuve Teuk Preak, à 2 minutes à vélo du centre
de Kampot.

Nous avons un restaurant avec vue sur le fleuve, où l'on peut déguster
des spécialités khmères et des mets occidentaux dans une ambiance
familiale.

Nous avons aussi quelques chambres tranquilles dans un magnifique
jardin où vous pouvez vous reposer, vous promener.

Nous avons un service qui organise des tours si vous voulez visiter les
environs de Kampot. Nous avons aussi des vélos gratuits pour vous
promener, ainsi que des transports gratuits jusqu'au centre de la ville.

Les profits que nous faisons nous aide à donner des cours
d'informatiques pour les habitants afin qu'ils puissent accéder aux nouvelles
technologies. Nous essayons d'installer un endroit avec des ordinateurs pour
qu'ils puissent les utiliser.
Our address:
Voici nos coordonnées :
Mme Hang Puthary
Box 0713 Kampot province
Cambodge.
Tel : ( 00 855 ) 16 389 170
Tel : ( 00 855 ) 33 932 170
Email :hang.guesthouse@gmail.com
Website : http://www.hang.esmartweb.com