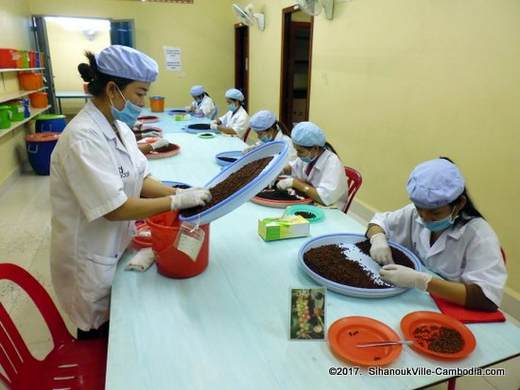 Farmlink Pepper Workshop Plantation
and Kadode Pepper
Workshop. Tastings. Tour. Demonstration Farm.
Best collection of Kampot Pepper in Cambodia. Free entry. Farm out front with descriptions of the different peppers grown. And in the dry season, pepper drying in the sun.
Inside is a gift shop. In the back is Kampot Pepper sorting and packing. The Farmlink workshop collects pepper from farms around Kampot, inspects and sorts each peppercorn by hand, and packs them for shipping around the world! Sold under the Kadode Kampot Pepper brand.
The farm is open weekdays, from 7:30 to 11:30 in the morning, and 1:30 to 4:30 in the afternoon.
Tel: 033 69 02 354
contact@farmlink-cambodia.com