Blue Buddha Hotel
RATES AND ROOMS Jan 2017
Double $24
Small twin $30
Large twin $36
Family room $42
The Blue Buddha is a stylish, inexpensive Kampot retreat in the center of town.
The Blue Buddha Hotel in Kampot gets rave reviews, offering great value for money with stylish inexpensive rooms that are sparkling clean. Located just on the Salt Workers roundabout, the hotel is walking distance from the riverside and central Kampot.
With a 24-hour front desk, their staffs are incredibly friendly and helpful. They also offer a range of locally made products in the lobby and a number of services such as free bicycle use for guests.

There are four types of rooms that can accommodate varying numbers: double for 2 pax, small twin 3 pax, large twin 4 pax and family room 5 pax. The double, twin and family rooms feature balconies.

All rooms have air-conditioning, flat-screen television, en-suite bathroom with solar-powered hot water and a mini fridge/bar. Spotlessly clean and tidy, not often found in this price category with toothbrush, shampoo, soap and much more provided for all guests. Perhaps the best feature is their comfy mattresses, which they've imported from abroad.
CONTACT
bookings@bluebuddhahotel.com
+855 (0)17 843 550
No.1 St 730 (Guesthouse Street)
Kampot Town, Kampot, Cambodia

THINGS WE CAN OFFER
Free bicycle usage
Private parking
Exclusive discounts around Kampot
Booking Desk
35mb Wifi
24hr reception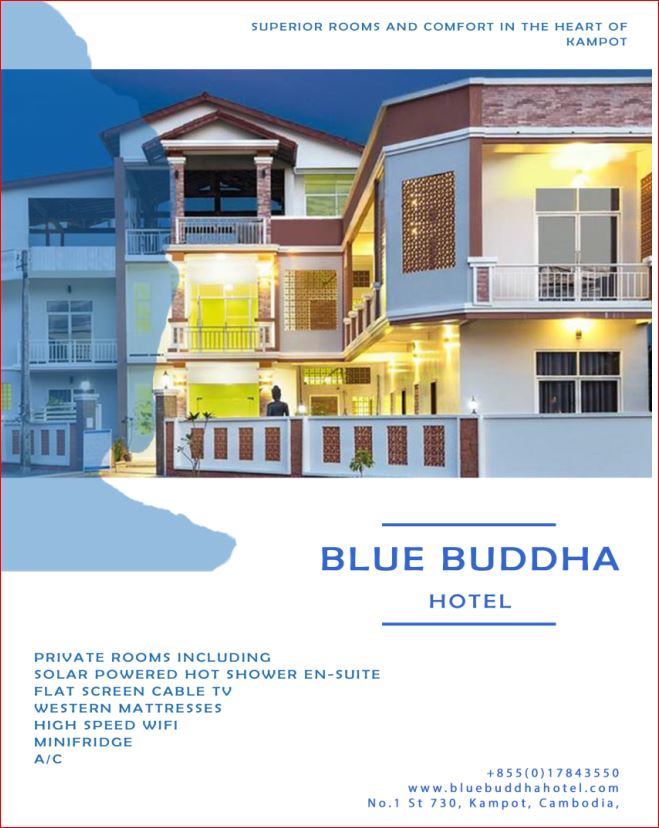 Tel: 071 637 2924 or 071 637 2923
bookings @bluebuddhahotel.com
Book a room at Blue Buddha Hotel
Off the Salt Workers Roundabout.